Help kidSTREAM open our outdoor space!
Help us Build up STREAM!
We know that the world is on hold, but childhood is not, and neither is kidSTREAM! Your gift today brings us a giant step closer to opening our doors in 2021!
We ask for your support today to move this vision forward: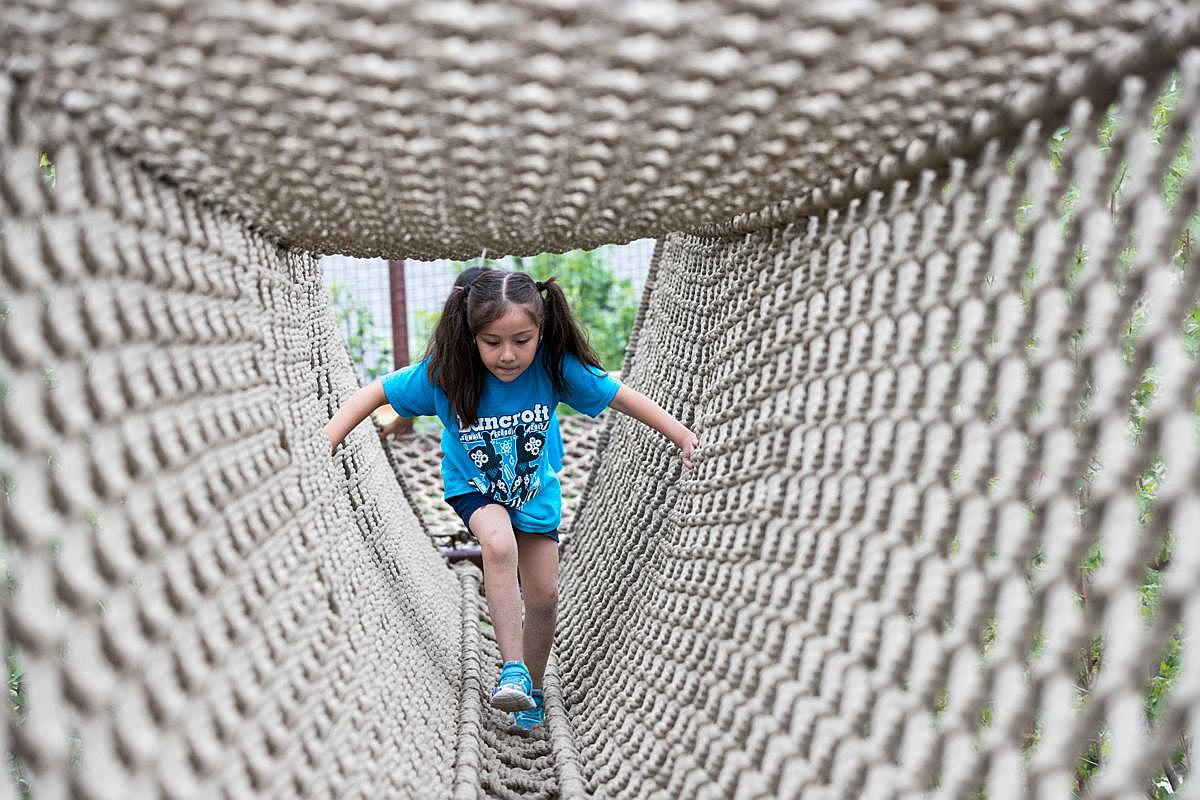 An accessible treehouse adventure with multiple lookout peaks, linked together by rope bridges that sway over activities below.

Why is this important to children? Children need both "safe risk" and gross motor (large muscle) play, which are decreasing at a significant rate in today's childhood. Key development, both mentally and physically, happens when children take on risk, and a safe environment, like professionally designed and built rope bridges and treehouse lookouts provide this opportunity
An agricultural space with a small pretend orchard and play farm, farmer's market, scales, a climbable tractor, as well as rotating carts for planting real plants.

Why is this important to children? Ventura County is home to a bountiful agricultural economy, and children are further removed from where their food is grown - even when it's close to their backyard. Additionally, pretend play is developmentally critical for children in that through this play important complex social and higher order thinking skills are developed and practiced.
A Channel Islands adventure featuring a whale pod with water play, climbable Channel Islands, a rolling wave tunnel, balance surfboards and kayaks, climbable buoys, as well as a kelp obstacle course.

Why is this important to children? Our region's national park is mostly under water and many don't have the opportunity to visit, but we bring a fun and educational version of the Channel Islands to our children. Much of the play in this marine play space is gross motor play with scalable challenges for children of different ages and abilities.
Sand play with Pygmy Mammoth Dig and "Mud Kitchen" - This "beach" will separate the Channel Islands from the agricultural space, much like it does in Ventura County.
Why is this important to children? Sand, like the water that will run into this area, is not only a sensory play opportunity, but helps develop fine motor skills, communication and socialization and cooperative play.
Water play with a meandering dry stream bed that children can hand pump water into to wash their fruit at the agricultural stand or bring to the "mud kitchen" for play in the sand.
Why is this important to children? Water is a favorite sensory play tool for many children, and due to the conservative use of hand pumps which limit output and gray water collection plans, we can be mindful of this precious natural resource without denying children the opportunity for water play.
There are so many other exciting plans in the works for kidSTREAM's outdoor play space, from an amphitheater to an art and music space to a "secret garden" path with a labyrinth and vine covered tunnels and nooks.
We are so excited to bring these outdoor plans to you, but we need your help! Donate today to bring this much needed resource to the children of Ventura County!